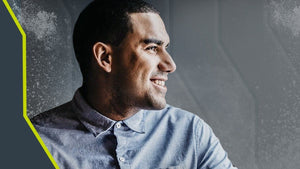 Fullback - Montreal Alouettes (CFL)
Spencer Moore is a professional football player - currently playing for the Montreal Alouettes in the CFL. He was born and raised in Hamilton where he grew up playing sports from a young age. He began playing football in grade 10 and immediately excelled.  Playing both basketball and football throughout high school, he was named MVP for both sports in his graduating year which lead him to receive a football scholarship to McMaster University. He played two of his four seasons with McMaster, winning both the UOA championship and the National Championship with his team. Immediately after university, Spencer was drafted to the CFL by the Saskatchewan Roughriders where he played six years, three of which he was a captain. During his time in Saskatchewan, he met his wife and many longtime friends. He was recently traded to the Montreal Alouettes and has had one of his favorite seasons yet. 
Spencer was forced to persevere early in his football career as he did not get to play during his first two years at McMaster. He did not receive a jersey number and had to sit in the stands during games, not having the opportunity to be on the sidelines with his teammates. During this time, it was hard for Spencer to keep motivated in practice and classes. He was close to quitting several times. He did not however, and is glad that he stuck through it because football has given him a life that he otherwise would not have had. 
Spencer continues to receive support from family and friends which helps him to push beyond his limits. Although he has been in the CFL for seven years, he still receives weekly messages wishing him luck in his games. 
Favorite Way to Sweat
Spencer loves getting in heavy lifts during football offseason. He also enjoys the good sweat that he gets from Hot Yoga and Spin classes. 
Favorite Way to Recover Post-Workout
Spencer's favorite ways to recover include foam rolling, ice baths and large meals. 
Greatest Accomplishment
Athletically, Spencer considers his greatest accomplishment to be winning both a Vanier Cup and a Grey Cup. His greatest overall life accomplishment though is marrying his best friend.