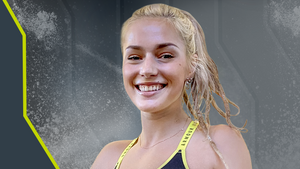 Heptathlon - Team Canada
Georgia grew up in Langley, British Columbia, where she became a competitive athlete very early on. She always needed to be involved in whatever her brothers were doing, and her brother found early success in track and field.
Georgia soon after discovered heptathlon through her club coach and has never looked back.
She made her intentional debut for Canada at the 2011 Youth World Athletics Championship where she finished 12th in heptathlon and the top competitor in the 200m and 100m hurdles.
In 2013, she won the Canadian junior title and took bronze at the Junior Pan American Championships.
In her Olympic debut at Tokyo 2020, Georgia achieved a persona best in the high jump and finished in the top 20.
For Georgia, being able to compete has been a blessing and something she feels grateful for every single day. Outside the world of sports, Georgia enjoys painting, fashion, and spending time outdoors hiking and camping.
Career Highlights

2021 Stadtwerke Ratingen Champion, represented Canada at the Tokyo Summer Olympics. 2018 NCAA Champion, eight-time All-American, 2018 Big-Ten Champion & Field Athlete of the Year.
Interesting fact

Being from British Columbia, where bear encounters are quite frequent, Georgia once had a bear sneak up on her while she was cooking at her campsite. The bear took off with her entire week's supply of food, requiring her to put her athletic abilities to work and chase it down.