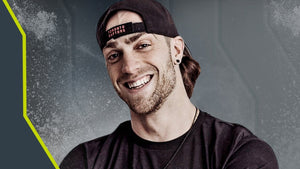 Strength and Conditioning Coach
Steve is the Head Strength Coach of Journey to Excel, located in the Ford Performance Centre, where he trains elite level athletes. As well as a strength and conditioning coach, Steve is also a motivational speaker and the founder and owner of Gains Gang Clothing line, which donates a portion of their proceeds to underprivileged athletes for sports and training, and TFT Fitness. 
Favorite Way to Sweat
Steve loves functional exercises and compound movements. He believes that technique should always be prioritized over weight in order to reach your true potential. Also a big fan of Olympic lifting, Steve likes to incorporate the clean & jerk and the snatch into his workouts. 
Favorite Way to Recover Post-Workout
Steve's post-workout routine involves self myofascial release, stretching, and meditation
Greatest Accomplishment
Steve considers his greatest accomplishment to be having the opportunity to inspire young athletes to become the best possible versions of themselves.