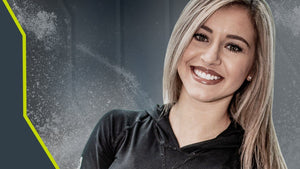 ISSA Certified Personal Trainer
Mandy is a 24-year old ISSA Certified Personal Trainer and national level IFBB bikini competitor from Springdale, Newfoundland. Growing up, Mandy always lived a healthy lifestyle, playing a wide variety of sports. It was in 2015 that she began competing, partially out of pure curiosity and partially because she wanted to see if she was up to the challenge. Turns out, she was. In her first competition, Mandy won a title and immediately fell in love with the sport. Now, living in Toronto, Ontario, Mandy has competed in 12 bikini competitions as a national level athlete and is working towards becoming an IFBB professional bikini competitor.  
Mandy loves the health and fitness industry for a million and one reasons; not only does she find it helps to build her strength physically, but also her mental strength. Living a healthy lifestyle allows her to perform at her best in every aspect of her daily life, but also gives her the balance that she strives for. To Mandy, being healthy is about so much more than just activity levels.
Favorite Way to Sweat
Mandy loves a variety of physical activities, but her favorite way to build up a sweat is going to the gym and training legs hard. Here is a sample of her leg day.
1. Leg Extensions - 4x25 
2. Lying Hamstring Curls – 3x10
3. Barbell Weighted Step-ups - 3x10
4. Glute Kick Backs - 4x15
5. SAff Legged Dumbbell Deadlifts - 4x10
6. Seated Calve Raises - 3x20
Favorite Way to Recover Post-Workout
Most often, you will catch Mandy post-workout, walking out of the gym with a Bodylogix® protein shake in one hand and two rice cakes with peanut butter in the other to hold her over until she gets home to have her post-workout meal.
Greatest Accomplishment
Mandy considers her greatest accomplishment to be stepping out of her comfort zone and moving to a different province in Canada, being able to do what she loves more, compete and work hard towards her goals.