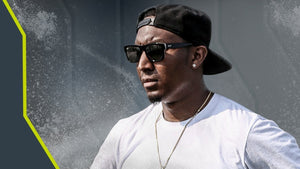 Head Performance Coach - STARS
Morgan "Mo" Fennel is the Head Performance Coach for STARS, a Sports Training and Rehabilitation Service dedicated to preparing athletes for elite competition. Morgan is also a coach, mentor, and trainer at the Lakers Youth Foundation.
As an ex-athlete with a Bachelor of Science degree in kinesiology, Morgan feels as though he was groomed from a young age to become the man and coach that he is today. His years of training and experience have allowed him to stay connected to the game, as well as the processes that go into developing a competitive athlete.
Favorite Way to Sweat
Morgan loves to keep it old school and bang out a workout in the weights section to get a good pump. A huge fan of EMOM (every minute on the minute) sets, Morgan believes that this type of workout keeps his rest times disciplined. For cardio, Morgan loves to use recreational sports, such as shooting hoops.
Favorite Way to Recover Post-Workout
After enjoying his favorite Bodylogix® protein shake, Morgan also considers eating a Reese Cup a must after every workout. To ensure he is in top form for every workout, Morgan also foam rolls and at the end of every week, will take an ice bath.
Greatest Accomplishment
Morgan considers his greatest accomplishment to be standing here today. Being a successful man when statistics told him he had no chance is a great feat in itself. Morgan is proud to be his own man and feels blessed every day he wakes up and is given another chance to attack the day.