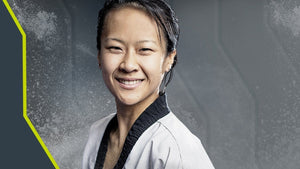 Taekwondo Athlete - Team Canada
Canadian National Taekwondo athlete and Canadian Armed Forces member, Yvette Yong, was motivated by her family to begin her athletic career. With a mother who was a track athlete and a father who was a kung fu instructor, its only natural that Yvette grew up active and fit, playing all sports from basketball, volleyball, and tennis to short track speed skating.
Yvette is now a 3-time World Military Taekwondo Champion. As an athlete and a member of the Canadian Armed Forces, Yvette feels privileged to be able to represent her country in and out of sport as an athlete and a soldier.
When she is not training/competing, Yvette is also a trainer herself at MOVE Fitness Club and runs an after school program for kids called Little Movers Taekwondo.
Favorite Way to Sweat
Yvette loves to break a sweat during a sparring season at Young Choung Taekwondo or by completing a GetStrong workout at MOVE Fitness.
Favorite Way to Recover Post-Workout
Yevtte's post-workout routine involves a Bodylogix® protein shake and foam rolling.
Greatest Accomplishment
Yvette considers her greatest accomplishments to be being ranked #1 in the world. This accomplishment took a lot of time, energy, and focus to achieve and maintain. Yvette is also proud to be the first athlete in the world to receive the World CISM Athlete Award.