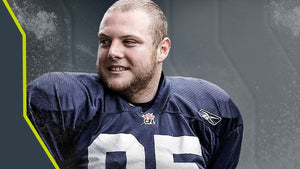 Defensive Tackle - Winnipeg Blue Bombers (CFL)
Jake was motivated to begin his fitness journey with a dream of becoming a professional football player. Like any aspiring young athlete, he wanted to get bigger, stronger and faster in order to be able to play at a high level and compete with the best. Fast forward to the present, Jake is currently in his 7th season playing in the CFL for the Winnipeg Blue Bombers. Jake is a former student athlete of Acadia University where he was All Canadian on and off the field.
Favorite Way to Sweat
To ensure he is getting a good sweat, Jake will perform a superset of squats with prowler sprints. Jake also loves sweating it out in a hot yoga class.
Favorite Way to Recover Post-Workout
Jake's post workout routine involves stretching, foam rolling and enjoying a Bodylogix® protein shake and a banana.
Greatest Accomplishment
Jake considers his greatest accomplishment to be playing 100 games in the CFL with one team.