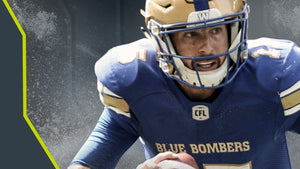 Quarterback - Toronto Argos (CFL)
Matt is a professional quarterback currently playing for the Winnipeg Blue Bombers and in his 10th season in the CFL. Matt began his football career while playing collegiately at Eastern Washington University as a 4-year starter where he set conference records for passing yards and total yards in a career that still stand today.
Matt was motivated to begin is fitness journey as a young child. At the age of 5, Matt had decided that he would become a professional athlete, and no one could tell him otherwise. He knew that he would do anything that he had to to get there and now he does the same to keep his position.
Off the football field, Matt is currently working on his Masters in Sport and Athletic Administration at Gonzaga University. Matt has been married to his best friend, Ali, for 9 years and together they have 2 daughters, named Elliot and Parker. Matt is a 5-handicap golfer, lover of video games, movie buff, and TV show binger who believes in treating people the way that you want to be treating.
Favorite Way to Sweat
Matt's training has evolved over the years as his knowledge (and age) have increased, but he is still required to remain in peak physical form. Recently Matt has changed his eating habits for the better and has noticed a great increase in his overall health and performance. For workouts, Matt does a lot of high intensity interval training, mixed with some heavier weight training. He has moved away from lifting heavy too often in favor of more functional training. Matt is constantly trying to take in information from his trainers and teammates in order to further better himself/ He believes in the importance of always writing your workout before hitting the gym in order to increase efficiency of each workout.
Favorite Way to Recover Post-Workout
Post-workout, Matt likes to stretch in the sauna and uses a hypervolt to help work out any knots in his muscles.
Greatest Accomplishment
Matt his proud of his many accomplishments, including having a successful marriage and two beautiful daughters, earning a full-ride scholarship to EWU and achieving a Bachelor's in Business Management, playing for the Dallas Cowboys against his childhood team, the Oakland Raiders, and overcoming multiple injuries to be the starting quarterback for the Winnipeg Blue Bombers for the 4th straight year.