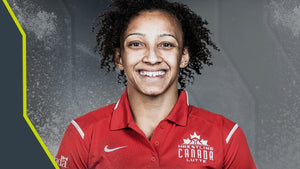 Wrestler - Team Canada
Alexandria Town is a wrestler on Team Canada. Not only is she a 2x national champion, Pan American medalist, University World medalist, and U23 World Champion, Alexandria is also a strong, empowered woman breaking through barriers and overcoming adversity on her pursuit of excellence.
Favorite Way to Sweat
Alexandria's favorite exercise is the arms only rope climb. She loves it because she feels like a monkey and because it is an extreme challenge and she loves the way it pushes her to her limits every single time. Alexandria will often end her workout with five sets of climbs (up & down) with 2 minutes rest in between each set, followed by a few rounds of the sled push.
Favorite Way to Recover Post-Workout
Alexandria's post-workout routine involves enjoying a nice cold Bodylogix® protein shake while preparing her lunch or dinner.
Greatest Accomplishment
Alexandria considers her greatest accomplishment to be winning the U23 World Championships, becoming the first and only Canadian to do so.