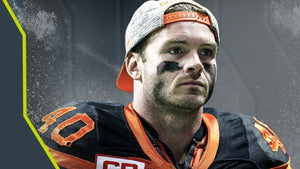 Linebacker - Montreal Alouettes (CFL)
Mike Benson is the owner and head strength coach of Pro Player U, a local gym in Winnipeg, MB. The Acadia University Axemen grad and Winnipeg native, Mike is entering his 9th year in the CFL as a linebacker and long snapper. Currently with the Montreal Alouettes, Mike has also spent 1 year with the Ottawa RedBlacks, 5 Years with the BC Lions and 2 years with the Edmonton Eskimos. After studying nutrition and kinesiology at the University of Manitoba and Acadia University, Mike started his gym in Winnipeg almost 6 years ago and hasn't looked back. In February 2019 Mike was a founding member of the Rising Stars Foundation of Manitoba, a grassroots NFP that provides scholarships, support and mentorship opportunities to student-athletes and underserved youth in Manitoba. Mike is the Director of Community Outreach and sits on the Board of Directors.The last 8 years as a professional football player, Matt has had the ability to train with, learn from, and collaborate with some of the best strength coaches in the nation. 
Favorite Way to Sweat
Mike's favorite exercises are cleans and sumo deadlifts. His favorite workout is:
Heavy Sled Push/Drag 20 yards + Ski ERG 150m x4
Clean Complex(Hang Pull, Hang Clean, High Hang Clean) 5x3 
Sumo Deadlift work up to 1rm(5x1-2)
Safety Bar Split Squat 3x6ea
SL RDL 3x8
GHR 3x6
Favorite Way to Recover Post-Workout
Post workout, you can find Mike with a fruit and spinach smoothie, featuring some Bodylogix Whey Protein, walking his husky pup. 
Greatest Accomplishment
Mike considers his greatest accomplishment to be fulfilling his dream as a professional athlete, marrying the love of his life, and being a husky dad.