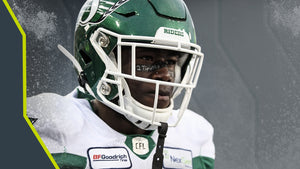 Cornerback - Saskatchewan Roughriders - CFL
Elie is a professional football player who is currently heading into his 3rd season with the Saskatchewan Roughriders of the CFL (Canadian Football League). Originally from Montreal, Quebec, he earned a scholarship to play his college career at the University of Calgary where he became a Canada West All-Star and a CIS All Canadian. After his last season in Calgary, he signed with the Arizona Cardinals of the NFL as an Undrafted Free Agent in 2016, while being selected in the 2016 CFL draft by the Saskatchewan Roughriders. He also spent a season with the Philadelphia Eagles in 2018.
In 2020, Elie started a strength and conditioning company in Calgary now called Bouka Performance and Wellness where he trains athletes from various ages playing and general population clients. Through his pro career, Elie always kept a holistic approach to his preparation by staying on top of his physical and mental development, recovery, mobility and nutrition. These are the same values he embraces as a coach also.