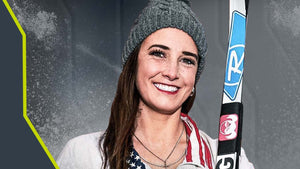 Paralympic Athlete
Born without her left hand and forearm, Dani never let her disability slow her down in life. Dani is training to compete and represent the United States at the Summer and Winter Paralympic Games.
As a former Division 1 collegiate cross country and track & field athlete, she now trains full-time as a runner and nordic skier.  Dani qualified for the 2021 Team USA Paralympic trials for the 400M in track & field.  From her running career, she caught the attention of a developmental team coach for USA Paralympic nordic skiing.  She trains and competes with the US Paralympic Nordic team in the hopes of qualifying for the 2022 Beijing Paralympic Games in nordic skiing and biathlon. 
When she is not training, Dani enjoys spending time in the outdoors.  She has a photography business and works as a freelance social media manager.  
Favorite quotes:
"Don't let what you cannot do interfere with what you can do" -John Wooden
Personal quote: 
"Biathlon is an added layer of challenge to an already challenging sport"
"I grew up playing sports and always able-bodied sports, so since I was missing my hand, and was competing against able-bodied athletes, I've never wanted someone to look at me and think 'oh, she only made the team because she has one hand' or 'pit clap for the girl playing with one hand'."
"I've always had it ingrained in me that I needed to prove myself to others that despite not having a hand, I am still a great athlete"